Can you imagine music without any beat or tune? Or imagine a commercially successful song without promotion? Can you imagine a Wizkid stage performance without a DJ Tunez preamble to boost the energy around the stage? So also, you cannot imagine a quality stage performance without a preamble hype of the audience by a hypeman. Some activities are just inseparable.
A hypeman's role cannot be downplayed. They are the important and pivotal elements of quality stage performances. Their role is acting as a right hand to the performing artist by supporting in ways that enhance stage presence. It is a general knowledge at this moment that hype men play a very important role in the success of an artiste's stage performance
RooBoy is a creative who is making a name for himself in the hypeman business. Definitely not a newbie in the business as he started his career properly in the mid 2010s. Creatives tend to be inspired by early influences that shapes their future ambitions. It has not been any different for RooBoy. The Lagos-bred creative has always wanted to lift the spirits of people around him since he was a kid and finds himself in familiar surroundings after coming of age. His inspirations seem to have been inborn.
RooBoy had an early preference for Soccer which is key to his stage name as he drafted it out from his favorite football star Wayne Rooney. Taking an in depth look, there is a semblance between both figures; especially their work ethic. This is noticeable from the energy he emits on stage. His work ethic has earned him massive gigs and sponsorship deals. RooBoy has graced some important occasions such as No Bad Vibez with Zaza, Make E No Cause Fight II, MTV Base Cypher, Ciroc X Kiddwaya amongst a host of others with his eclectic presence.
RooBoy, popular for his ability to energize the audience with his electric performances and get people hyped and ready. He reveals the secret to his success in hyping the audience boils down to three things he considers important;
" If I've got a show, I try to get there 2 hours before the show, to set myself up and study the stage, crowd and general ambience" he reveals in an interview with 49thStreet. This technique has worked well for him because the energy and positivity he exudes on stage is magnificent. He knows exactly what to do to get the crowd energized.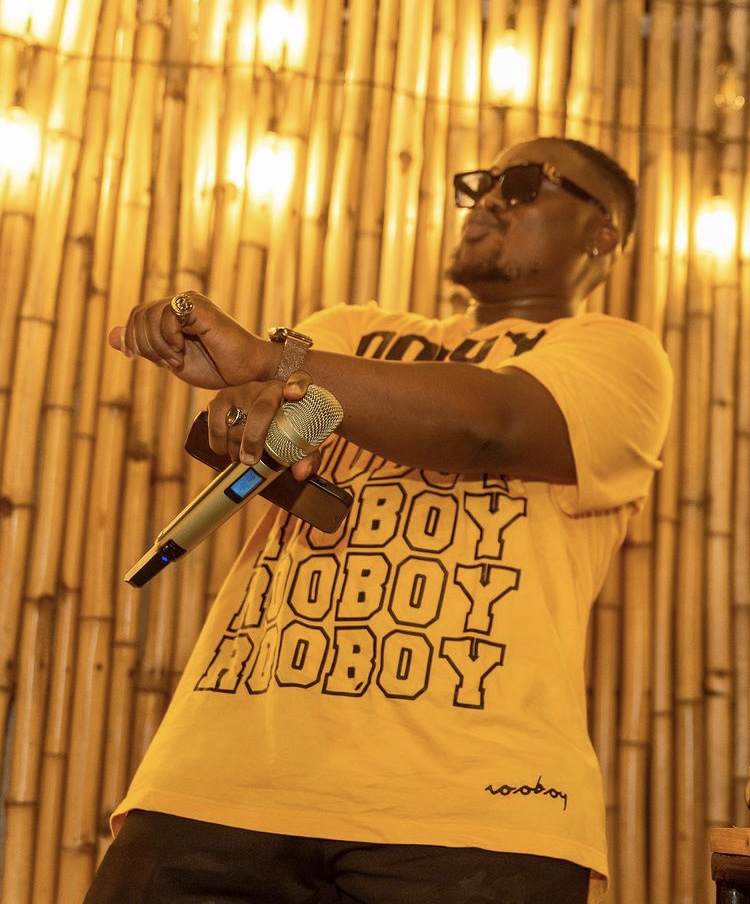 RooBoy is someone who is so committed to his job and is always obsessed with improving himself always. He stated "As a hypeman, even when I'm not on-stage hyping, at home we keep working on ourselves too. You must keep up with new trends, slang, and new artists on the scene, as well as memorize new hit songs". All of this culminates into how he has been able to retain his stance as one of the industry's veteran hype man.
Away from his artiste lifestyle, RooBoy has also established charity foundations as he aims to give back to the public. Growing up was not easy for him as he had to fend for himself in the streets of Surulere in Lagos, so he is not a newcomer to how difficult it is to make it out of the streets unaided. His experiences prompted him to start a foundation that aims to give a platform to the disadvantaged. Rooboy has also diversified his talents to the movie industry where he has starred on a handful of TV shows, most notably the "AMC THE HANGOUT" series.
Rooboy has always stated his love to work with artistes at some point in the future. "I'd love to collaborate with Davido and other brilliant artists like Asake, Fireboy, Rema, etc. because I love their sound. And I'm sure with my energy and their musical talent, together we'll cook something sensational for our fans and listeners ". In fact, he also plans to hop on the latest trend of artistes and hype man collaborations, some of which have birthed some Nigerian bops such as '2000' by Laycon & Toby Shang, 'Buddy Bounce' by Sefhan and Toby Shang and more.
The journey has not been easy so far for someone who holds the mantra "Be the reason someone smiles. Be the reason someone feels loved and believes in the goodness in people " to a high esteem. It is not difficult to see the driving force behind his exploits and willingness to do more. RooBoy looks into the future and all he wants is to become better. " This question is something I always ask myself every day, and the answer is that I want to be one of the biggest hypemen in the hype industry. Let my name be a popular name in every household. I want to work with the biggest brands in the world, host the biggest shows in the world, and also want my team to grow with me. That's my dream: to have a big family of happy people " says RooBoy about his dreams and future plans.
Time will tell as we witness the continuous rise and times of an established legend in the hypeman business.